The Star-Touched Queen (The Star-Touched Queen #1) by Roshani Chokshi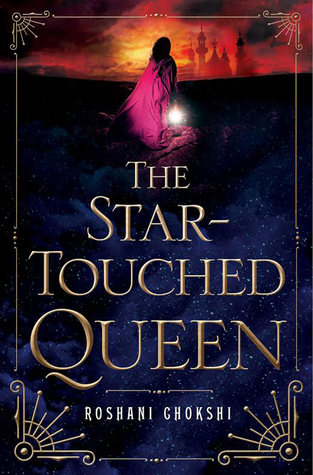 Synopsis
Fate and fortune. Power and passion. What does it take to be the queen of a kingdom when you're only seventeen?
Maya is cursed. With a horoscope that promises a marriage of death and destruction, she has earned only the scorn and fear of her father's kingdom. Content to follow more scholarly pursuits, her whole world is torn apart when her father, the Raja, arranges a wedding of political convenience to quell outside rebellions. Soon Maya becomes the queen of Akaran and wife of Amar. Neither roles are what she expected: As Akaran's queen, she finds her voice and power. As Amar's wife, she finds something else entirely: Compassion. Protection. Desire…
But Akaran has its own secrets—thousands of locked doors, gardens of glass, and a tree that bears memories instead of fruit. Soon, Maya suspects her life is in danger. Yet who, besides her husband, can she trust? With the fate of the human and Otherworldly realms hanging in the balance, Maya must unravel an ancient mystery that spans reincarnated lives to save those she loves the most…including herself.
Opinion
Wow, I don't think I book has ever left me so...speechless? I have to admit I have so many conflicting feelings about this book. I love the story and the magic; the way that Chokshi brought the universe alive, making it almost tangible in every way imaginable. However, the story also left me confused as to what I just read. I can't decide how exactly I feel about this book.
"I wanted a love thick with time, as inscrutable as if a lathe had carved it from night and as familiar as the marrow in my bones. I wanted the impossible, which made it that much easier to push out of my mind."
In it's essence this is nothing more than a love story weaved with the impossible and the magical, however, it is also a story about finding oneself, looking deeper and looking closer at everything. Chokshi used Indian mythology to weave all of this together and I feel like that, in-itself, made the story. Indian mythology is so beautiful and so heartbreaking and I believe she really captured that in this story. Maya, who had lost herself and who was sentenced to a life she didn't want, fought and in the end, found the love she always knew was out there.
"I know your soul. Everything else is just an ornament."
I would have to say that the biggest flaw with this story overall, was it cold be incredibly confusing at times. Sometimes I would be reading it and the next thing I knew I had no idea what was going on. The story had a tendency to jump around a lot, and be very dependent on the mythology. Altogether, that's were I thing Chokshi lost a lot of people within the story; the mythology. See, I don't know about you, but I know very little Indian mythology, and much of that mythology wasn't explained, almost like it was expected that you knew it before going into the book, and that really affected the world building. It was as though she was discussing the similarities and differences from the original mythological stories and not making anything its own. I wanted the lands, the kingdoms to be described as though you were talking to a blind person, and not someone who had been there before.
The ending to this book was not a surprise, but also not what I expected. It's hard to really talk about without giving anything away, so all I will say is that you shouldn't focus all of your energy on all the small details, but also look at everything as a whole.
All-in-all I still believe that for those who love fantasy and mythology based stories, this is a book you should definitely give a shot, just don't rush into it.