As I am sure most of you are aware, there is a pretty huge hurricane going on right now, hitting Haiti, Cuba, The Bahamas, S.E. US. and more. The hurricane is causing some serious damage to areas, especially those in the Caribbean that it has already hit or is about to.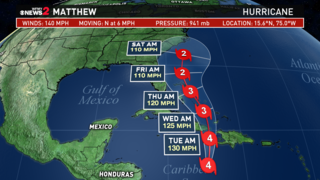 While some of us, I know, are just hoping that it means school or work is cancelled, I've got my eyes out. I have friends and their families that live in Nassau, Bahamas, that are in my prayers that they will be alright through all of this. Luckily, I know that many of them have already left the island. However, I've also got things to worry about myself. I live in South Florida, near the beach, and this hurricane could cause some serious damage to where I am. In fact, I work at a hotel on the beach and I hope that if any of my coworkers are there, assuming they don't completely evacuate the building, that they are safe. There are many people here that are in the process of preparing their hurricane kits and houses for the oncoming weather.
With everything going on, myself and those I live with (my friend and her family) are all going to a family friends house (single mom with two young kids) to wait out this hurricane. Though today has been full of sunshine, tomorrow night (when we leave) I hope that it doesn't get too bad
.
I have no idea what the weather will do to our power so I will probably be MIA until it passes (other than my T5W that I will post tomorrow), until then I hope everyone in the areas that it will hit is safe and prepared.
Do not down play this storm, it has and will continue to cause some serious damage!