As always Top 5 Wednesday was created by Lainey at
gingerreadslainey
and is hosted by Sam at
thoughtsontomes
. All past topics and the rest of this months topics can be found on the Goodreads
group
page.
(So, we're just going to ignore the fact that I completely forgot to post on Sunday...oops)
Anyways, it's time for another Top 5 Wednesday and this weeks topic is gateway to your favorite genre. Now that's hard for me to choose, I don't know if I really have a favorite genre but I do adore retellings, so here we go! *In no particular order*
Crane (The Legends Saga) by Stacey Rourke
This headless horseman retelling is probably one of my favorite retellings I've ever read. Its dark, witty, and intricate. The series is a must read for those who are into darkly twisted retellings.
Deprevaty (The Beastly Tales) by M.J. Haag
An easy Beauty and the Beast retelling. It's nothing overly unique or a crazy new take on the original, but if you're in the mood for refreshing the basics, this is a great choice.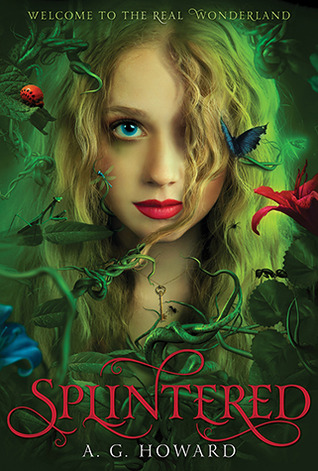 Splintered (Splintered) by A.G. Howard
A darkly twisted take on Alice's Adventures in Wonderland. This is one of my favorite series and such a great read. A must read for those who love Alice and want to see how dark wonderland can really get.
Dorothy Must Die (Dorothy Must Die) by Danielle Paige
Dorothy is witty, sensual, full of rage, and has everyone wrapped around her little finger, and best of all, Amy Gumm, the other girl from Kansas, is here to end her.
Cinder (The Lunar Chronicles) by Merissa Meyer
Another one of my favorite series. If you haven't heard of The Lunar Chronicles yet, you're probably living under a rock. This series is full of fantasy, scifi, and humor. I love everything about it and everyone should read it.
What about you all, any favorite retellings? What's your favorite genre? Let me know!