Soundless by Richelle Mead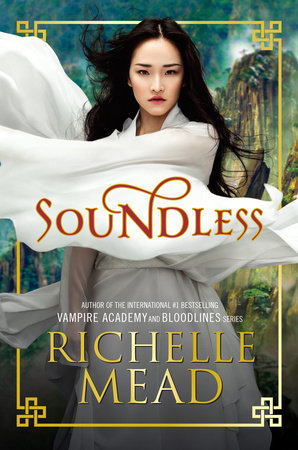 In a village without sound…

For as long as Fei can remember, no one in her village has been able to hear. Rocky terrain and frequent avalanches make it impossible to leave the village, so Fei and her people are at the mercy of a zipline that carries food up the treacherous cliffs from Beiguo, a mysterious faraway kingdom.

When villagers begin to lose their sight, deliveries from the zipline shrink. Many go hungry. Fei and all the people she loves are plunged into crisis, with nothing to look forward to but darkness and starvation.

One girl hears a call to action…

Until one night, Fei is awoken by a searing noise. Sound becomes her weapon.

She sets out to uncover what's happened to her and to fight the dangers threatening her village. A handsome miner with a revolutionary spirit accompanies Fei on her quest, bringing with him new risks and the possibility of romance. They embark on a majestic journey from the peak of their jagged mountain village to the valley of Beiguo, where a startling truth will change their lives forever…

And unlocks a power that will save her people.
This was the first Richelle Mead book that I've ever read and part of me wishes it hadn't been. I hear such great things about her work, such as the Vampire academy series and the Bloodlines series. Having read this book I can already tell it wasn't her best work, and I won't give up on her books as a whole because of it.
After first finishing the book I didn't really know how I felt. But now that I've collected my thoughts I'd say that, even though the book isn't bad or anything, I was disappointed with it as a whole. I expected more sacrifice, adventure, and journey. Much of the book was predictable and, compared to the rest of the book, the ending seemed a little far-fetched. Mead at such a good start to the story. The main character, Fei, regains her hearing, which is the beginning to a string of events that leads her down the mountain in which she was raised. So many, normal things, that you'd expect in such a journey, occur, and the fantasy elements of the book mostly all happen in the last 15 or so pages. Like, what? Honestly, it kind of confused my at first, almost like the idea was just thrown in there in the end because Mead wasn't completely sure how to end it. Even though, the story wasn't very strong, you could still get the feeling of what the village was like, and what they were going through. I do still wish there was some more world building and that she went more in depth into the characters, the villages past, and the line system as a whole.
"Look what we've done so far. We're pretty good at the impossible."
The characters made me feel so back and forth towards them. Fei was a strong female lead but sometimes she could be so incredibly indecisive and naive. Li Wei is exactly what you would expect in a love interest, and the sister, Zhang Jing, is so clueless and has obviously given up to the point you want to slap her, hug her, than tell her to stop being so negative. Though I did enjoy the characters to an extent, I wish that they had more depth to them.
"Some things don't need words. Sometimes it's enough to just feel. You don't have to label and articulate all that's around you."
In general the book was just alright to me. I really enjoyed the play on Chinese mythology and some of the turns that Mead took within the story. It was a fast paced, short read, that was good for someone like me who was just getting out of a reading slump when I was going into this book. Oddly, thinking about the book now, it almost reminds me of M. Night Shyamalan's The Village. Please tell me I wasn't the only one who thought this... (3.25/5)