Illuminae (The Illuminae Files #1) by Amie Kaufman and Jay Kristoff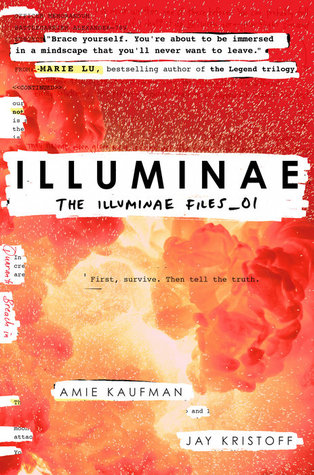 Summary
This morning, Kady thought breaking up with Ezra was the hardest thing she'd have to do.
This afternoon, her planet was invaded.
The year is 2575, and two rival megacorporations are at war over a planet that's little more than an ice-covered speck at the edge of the universe. Too bad nobody thought to warn the people living on it. With enemy fire raining down on them, Kady and Ezra—who are barely even talking to each other—are forced to fight their way onto an evacuating fleet, with an enemy warship in hot pursuit.
But their problems are just getting started. A deadly plague has broken out and is mutating, with terrifying results; the fleet's AI, which should be protecting them, may actually be their enemy; and nobody in charge will say what's really going on. As Kady hacks into a tangled web of data to find the truth, it's clear only one person can help her bring it all to light: the ex-boyfriend she
swore
she'd never speak to again.
Told through a fascinating dossier of hacked documents—including emails, schematics, military files, IMs, medical reports, interviews, and more—
Illuminae
is the first book in a heart-stopping, high-octane trilogy about lives interrupted, the price of truth, and the courage of everyday heroes
Opinion
Holy...Wow. I'm pretty sure that Jay Kristoff summarized this book better than anyone, "ILLUMINAE is the classic story of girl meets boy: Girl Loses Boy: And Parents: And Planet: and Ends Up on a Cripples Spaceship: with a Mad Computer: and a Deadly Virus Outbreak: in the Middle of an Interstellar War." Illuminae is one of those books that are really hard to talk about without spoiling something.
"Perhaps bravery is simply the face humanity wraps around its collective madness."
The way this book was put together was a work of art in itself. The creativity that was put into this book, everything from computer programming to teen angst, was incredibly entertaining and very engaging. The formatting for the AIDAN and the way 'he' thought and processed things, was probably my favorite; especially during the space fight scenes. AIDAN really made this book what it was.
"Am I not merciful?"
The human characters were so real and relatable that you couldn't help feel for them. The way the ship captains lead their ships and worked through the crisis was realistic and slightly heartbreaking. They were having such a hard time but had to do everything in their power to hide the worst of it from everyone else. What made matters worse, was the forced enlistment of all capable bodies into the army. I just couldn't deal with everyone getting even more separated.
"She is catalyst.

She is chaos.

I can see why he loves her."
In the end there was just so much that pulled your emotions in so many different directions, and the story was just awesome. I can already say this is going to be one of my favorite reads of the year. Definitely a good read for those whom love Science Fiction and adventure stores. (5/5)