Raven
(The Legends Saga #2) by Stacey Rourke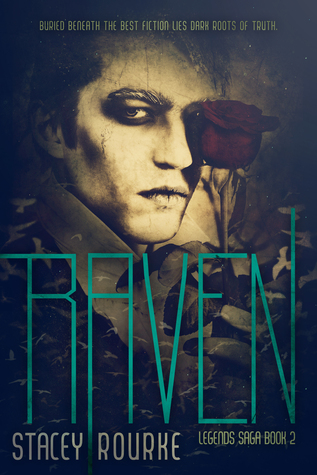 Synopsis
An infamous love, destined nevermore,
For death could not claim, the enchanting Lenore.
Cursed by the malevolent spirit of the Headless Horseman, Ireland Crane ventures to Manhattan in search of a way to break her soul crushing bond. Instead, she discovers the lines between fact and fiction are blurring once more. Croaking ravens. Telltale hearts. Could the works of Poe be coming to pass with handsome Wall Street Midas Ridley Peolte as their unwilling target?
She walks the Earth, a plague on mankind,
searching for he, her rotted heart doth pine.
Together, the two unknowingly release a dark force death itself could not tame. Surrounded by the unrelenting violence and mayhem they've unleashed, Ireland feels her control over the Horseman slipping. Before the beast within consumes her, she and her crew must follow the clues of the dead to right a centuries' old wrong. Will it be enough to sate the Horseman's appetite?
Hell hath no fury like a ghoul scorned.
My Opinion
Let me start off by saying that I love Rourke's characters. Ireland is sarcastic and a great female lead, Noah is witty and supportive; all the characters are fun and not overly serious about themselves. I just love that the characters a funny and almost lighthearted when the tone of what is happening to them is dark and terrifying.
On another note, this story was a great clash of two dark stories twisted together. Especially how she manages to mix two live/stories, one in the present the other in the past, and not make it confusing but instead add to the tragedy and twists of the story as a whole. Reading of one characters hardships and heartbreak in the past, while also reading about them trying to mend said past mistakes in the present add so much to the overall.
"She … uh … suffers from low blood sugar. It turns her into a slightly demonic nympho. Awkward as it is here, family gatherings are the real bitch."
However, I will say that Raven, while still great, was not as good as Crane. Ireland's hessian revival was just such a great story that Ridley's just couldn't compare. Also, I felt like their were parts of this story that just seemed a little rushed. It's hard to really put my finger on what it was without spoiling anything, but there were parts towards the middle/end that seemed almost random or forced into the story. Basically it seemed like sh tried really hard to make this whole story to transition into the third book without a hwole lot of explanation as to what was happening.
Overall, Raven was such a fun read! I'm happy I got to see more of Ireland and Noah's witty banter and more behind the twisting and tragic tales behind the legends. (4/5)